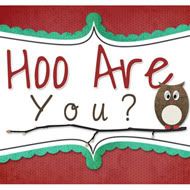 These are the questions from this weeks "Hoo Are You" over at Night Owl Crafting.
Here are this week's questions!
1. What is your favorite magazine?
It's too hard to pick a favorite. I am a magazine junkie! I love Country Home,
All You, Country Sampler, Family Fun, Country Living, Flea Market Style, etc
2. What color are your eyes?
3. Do you go to the dentist on a regular 6 month schedule, or do you put it off?
I do not go every 6 months because I detest going to the dentist. However, when I do finally go, I ALWAYS regret not going more regularly.
4. Do you use anything to make your house smell good?
ex: candles, spray,etc...
I have a Scentsy & I love the fruity & floral scents best (Hobby Lobby has scentsy like wax bars now)! Nothing beats the smell of of a freshly cleaned house!
5. Do you have any pets?
I have 2 dogs - one sweet golden retriever & one of her mutt puppies we couldn't part with. *grin*
Do we have any of these in common?